Maps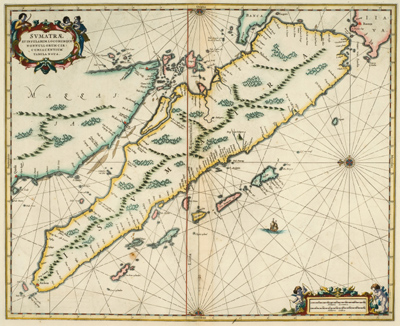 Artist / Author / Cartographer:
JANSSON, JAN
Title:
Sumatra - Sumatrae et Insuarum Locorumque nonnullorum circumiacentium tabula nova
Date:
c1658
Medium:
copper engraving, later colour
Size:
42 x 51.5 cms.
Description:
An attractive mid seventeenth century map of the island of Sumatra. The Straet van Sunda (Straits of Sunda) appear in the top right corner of the map below the port of Bantam. Coastal towns are shown around the coast of Sumatra Atchem appears to the lower left. Mountains and forests appear in the middle of the island. The equator runs through the middle of the map. Two compass roses indicate north is to the left. The map is adorned with rhumb lines a galleon and two decorative cartouche. The Straits of Malacca are above Sumatra and the cities of Queda, Malacca and Ihor(Johore) are highlighted in red along the coastine of Malaysia. Just to the side of Ihor is Senafur (Singapore). Jan Jansson married the daughter of Jodocus Hondius in 1612 and he then joined the Hondius family publishing business and contributed to the updating and additions to the Mercator Hondius atlas.
References:
Tooleys Dictionary of Mapmakers, Revised Edition E - J 2001
Item Code:
MA0645
attachment: