Maps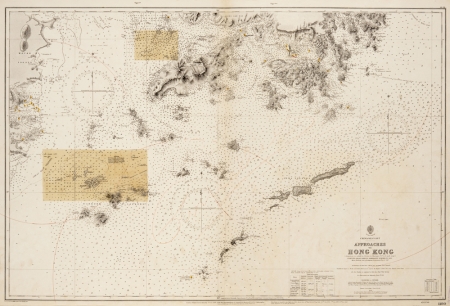 Artist / Author / Cartographer:
Hydrographic Office of the Admiralty
Title:
Approaches to Hong Kong
Date:
1932
Medium:
steel engraving
Size:
66 x 98.5 cm
Description:
Compiled from various Admiralty surveys to 1930. Macao Harbour from a Portuguese Government Plan of 1927.
London. Published at the Admiralty 31st December. 1888, under superintendence of Capt. W.J.L. Wharton, R.N., F.R.S. Hydrographer. Engraved 1888. Small corrections to 1932. Chart no. 1180.
A detailed Admiralty hydrographic chart of the Pearl River Delta from the late nineteenth century. This appears to be a proof chart which has had corrections applied by paper sections to 1932. Cancelled has been drawn in red crayon over the map because the data became out of date and had been succeeded by a more up-to-date chart. At this point most charts would have been thrown away as they would have been seen of no further use. Relatively few would therefore survive.
References:
Item Code:
MA6973
attachment: