Maps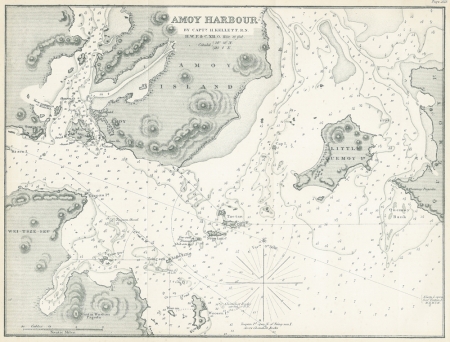 Artist / Author / Cartographer:
Kellett, Capt. H. R.N.
Title:
Amoy Harbour
Date:
c.1870
Medium:
lithograph
Size:
22.3 x 29.4 cm
Description:
Amoy Harbour by Capt. Kellett R.N. A small hydrographic map of Amoy in the second half of the 19th century based on the survey carried out by Captain Henry Kellett of the Royal Navy in the early 1840s. In 1841 Henry Kellett was involved with mapping Hong Kong along with Lt. Richard Collinson and Captain Sir Edward Belcher. Kellet and Collinson stayed on in Hong Kong and did extensive hydrographic surveying along the coast of China leading to a series of relatively accurate charts. Amoy would become one of the five treaty ports in China after 1843.
Today this is the city of Xiamen which is a special economic zone in China.
This map was published in "Sailing Directory for the Indian Archipelago, China and Japan". The Directory was a most useful publication and was an important guide along with the hydrographic maps produced by the Admiralty and blue back charts published at this time by James Imray. It was written by Alexander George Findlay RGS and published by Richard Holmes Laurie in London.
References:
Item Code:
MA7122
attachment: