Maps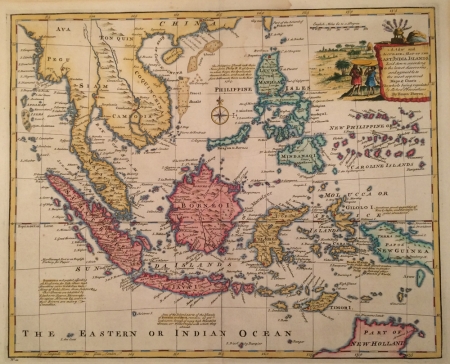 Artist / Author / Cartographer:
Bowen, Emanuel
Title:
South East Asia
Date:
1747
Medium:
copper engraving, later colour
Size:
37 x 45 cm
Description:
South East Asia - An Accurate Map of the East Indies Exhibiting the course of the European Trade both on the Continent and Islands. Drawn from the best modern Maps and Charts and adjusted by Astrnomical Observations By Eman. Bowen.
An attractive map of South East Asia showing the "Trade Winds". The map was published in London in the middle of the 18th century.
The Englishman, Emanuel Bowen, map and print seller, was engraver to George II and to Louis XV of France and worked in London from about 1714 onwards producing some of the best and most attractive maps of the century. Bowen produced a number of British county maps along with Thomas Kitchin as well as maps and atlases of different parts of the world. Bowen was one of the leading 18th century map and printsellers and engravers in London, and operated from various addresses.
References:
Item Code:
MA7144
attachment: