Maps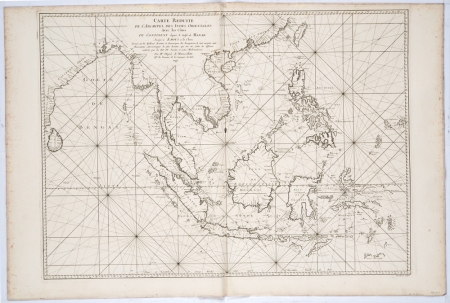 Artist / Author / Cartographer:
Mannevillette, Jean Baptiste N. D. Apres de
Title:
Carte reduite de l'archipel des Indes Orientales
Date:
1745
Medium:
copper engraving
Size:
57.7 x 80 cm
Description:
Carte réduite de l'archipel des Indes Orientales avec les côtes du continent depuis le golfe de Manar jusqu'à Emoui à la Chine / dressée sur les meilleurs routiers et remarques des navigateurs, le tout assujeti aux observations astronomiques les plus exactes, qui ont été faites en differens endroits par les RR. PP. Jesuites et autres mathématiciens, par M. d'Après de Mannevillette,.... ; D'Heulland sculpsit.
A magnificent early hydrographic chart of South East Asia by the French cartographer Jean-Baptiste d'Après de Mannevillette (1707-1780).. This map was printed and published in France in 1745 and would have been one of the most accurate charts of South East Asia available at the time.
References:
Item Code:
MA7557
attachment: