Maps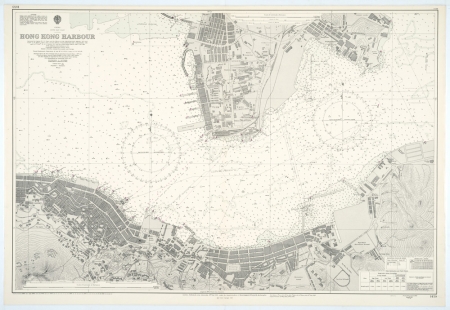 Artist / Author / Cartographer:
Hydrographic Office of the Admiralty
Title:
Hong Kong Harbour
Date:
1966
Medium:
photolithograph
Size:
66 x 98.5 cm
Description:
Hong Kong Harbour. Surveyed by Captain F.C.C. Pascoe and the officers of H.M. Surveying Ship Merlin, 1912-1913. Comdr. C.W. Sabine, O.B.E., R.N., and the officers of H.M. Surveying Ship "Challenger". and by Lt. Comdr. R.A.G. Nesbitt, R.N. and the Hong Kong Survey Party 1957 - 1958. With additions and corrections to 1959. Topography chiefly from Colonial maps. Details in hairline enlarged from smaller scale surveys. Transit instrument, Observatory @ Lat. 22 deg. 18' 13.2N., Long. 114 deg. 10' 18.75E.
London_Published at the Admiralty, 19th September 1916, under the superintendence of Rear Admiral J.F.Perry, C.B., Hydrographer. Chart No. 1459. New edition 16th September 1949. Large corrections to 29th January 1960. Small corrections to 1966.
Soundings in Fathoms. Natural Scale 1: 6060. Scale Gnomonic.
References:
Item Code:
MA7788
attachment: