Maps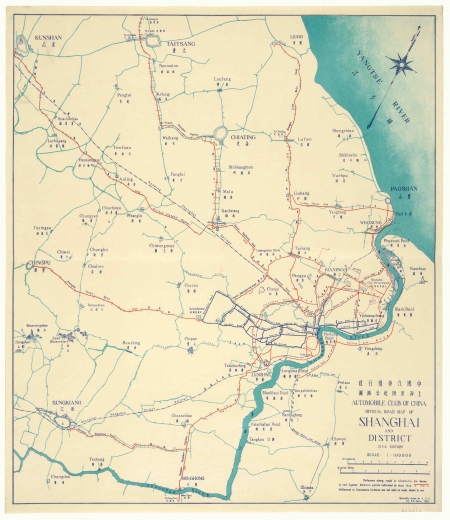 Artist / Author / Cartographer:
Automobile Club of China
Title:
Official Road Map of Shanghai and District
Date:
1936
Medium:
lithograph, printed in colour
Size:
62.5 x 54 cm
Description:
Automobile Club of China - Official Road Map of Shanghai and District. 1936 Edition. Scale 1:100,000.
Specially drawn for A.C.C. by S.E. Faber 1936.
An early and attractive road map of Shanghai and neighbouring area. The map was published and printed in Shanghai in 1936.
The Automobile Club of China existed in Shanghai c1918 - 1941 and 1945 - 1949. It was located at different addresses including 30 Peking Road, 3g Peking Road and the North China Daily News Building, 17 The Bund. The annual meetings were held at the Shanghai General Chamber of Commerce.
The Ameican journalist and businessman Carl Crow started its journal, China Highways: Organ of the Automobile Club of China, in 1934. It was a monthly magazine that promoted road building and touring.It described newly constructed roads from Shanghai to Suzhou, Hangzhou, Nanjing and Anhui. It worked on traffic regulations, safety and improvements of roads and infrastructure.
Fine and Rare.
References
Djordjevic, Nenad Old Shanghai Clubs & Associations. 2009

Stanford University
With thanks to Bill Savadore for research.
References:
Item Code:
MA7923
attachment: