Maps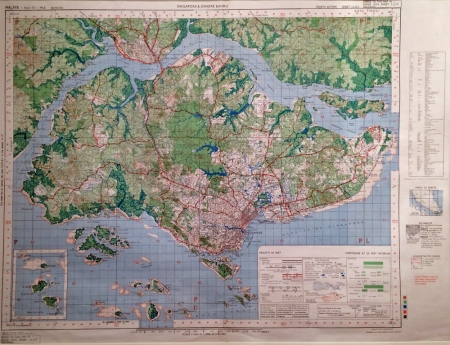 Artist / Author / Cartographer:
Survey Production Centre A.L.F.S.E.A.
Title:
Singapore & Johore Bahru
Date:
1945
Medium:
heliozincograph
Size:
55 x 69 cm
Description:
Malaya - 1 inch to 1 mile. RESTRICTED. SINGAPORE & JOHORE BARU - Fourth Edition Sheet 3L/12. HIND 1035 (G.S.G.S. 4203, 4th Edition) Scale 1 inch to 1 mile or 1:63,360. Revised by Ind Air Survey Coy, I.E. Reproduced by 110 Map Production Coy. R.E. June 1945
Heights in feet. Contours at 25 feet interval.
A detailed map of the Island of Singapore and Johore Bahru produced towards the end of the Second World War. An index bottom right highlights railways, roads, bridges, boundaries, buildings, water features, relief and vegetation. Six airfields are shown.
References:
Item Code:
MA7941
attachment: