Maps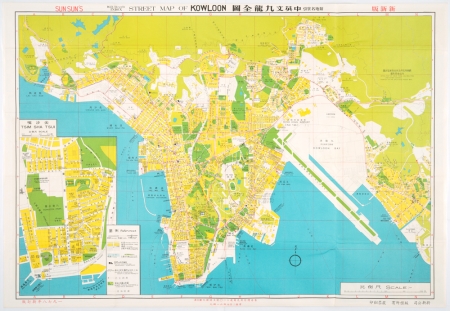 Artist / Author / Cartographer:
Sun Sun
Title:
Street Map of Kowloon
Date:
1975
Medium:
lithograph, printed in colour
Size:
53 x 73 cm
Description:
Verso Plans of Tsuen Wan and Kwai Chung -- Sau Mau Ping, Ham Tin, Cha Kwo Ling, Lei Yue Mun.
A plan of Kowloon printed in bright colours of green, yellow and blue, for the sea. Inset lower left is a detail of Tsim Sha Tsui.The railway terminus is beside the Star Ferry Pier. Nearby Is Ocean Terminal and when it opened on 22nd March 1966 it was the biggest shopping centre in Hong Kong. An area in Hunghom shows the Proposed New Kowloon Canton Railway Station.
Reference
OCLC number 53976015
Massachusetts Institute of Technology Libraries, Cambridge, MA 02139 United States
References:
Item Code:
MA7958
attachment: