Paintings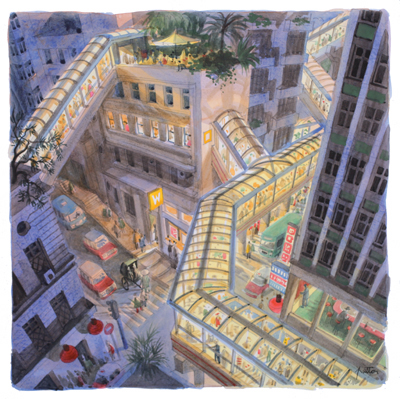 Artist / Author / Cartographer:
Jean Pattou
Title:
Hollywood Road, Escalator Dreams
Date:
2008
Medium:
watercolour
Size:
41.5 x 41.5 cms.
Description:
In a refreshing series of new drawings and watercolours the French artist Jean Pattou has created a wonderful new series of paintings. In 2008 we held an exhibition of his paintings in the gallery entitled Hong Kong, the Escalator Era.

Although inspired by the modern cityscape the images are created from ideas in his mind. At night he dreams about the city as seen from a bird's eye. Imagine a kite flying high above the city looking down on the contemporary centre with its labarynth of buildings, roads, walkways and escalators. During the day he visits and explores at ground level finding inspiration from the narrow streets of the old town and feeling the vibrant energy. Then he turns another corner to discover the new city with its futuristic architecture. Here is the metropolis of the 21st century. Two of Pattou's mentors were the artists Piranesi and Escher. The eighteenth century Italian artist Piranesi drew magnificent architectural views of Rome which were preserved in a series of beautiful engravings. The Dutch artist Maurits Cornelis Escher drew intriguing perspective puzzles which posed questions for the observer.
References:
Item Code:
P4047
attachment: