Paintings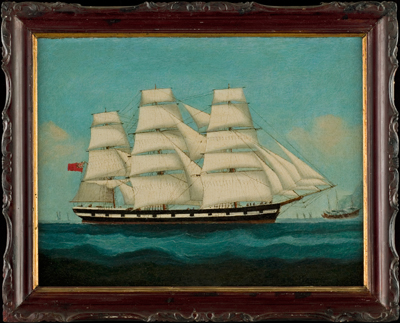 Artist / Author / Cartographer:
Chinese Artist
Title:
A British clipper ship off Hong Kong
Date:
c1865
Medium:
oil on canvas
Size:
46 x 60 cm
Description:
A British clipper ship with sails set. In the background to the right is a Chinese junk and possibly Hong Kong Island.
The Red Ensign flag was used on British merchant shipping from 1854. A Typical clipper of this period which was probably painted in one of the Chinese artists' studios in Queen's Road or Wellington Street. As yet we have not identified this ship or the artist who painted it..
Oil on canvas laid down on board. There appears to have been some minor restoration to the painting. Original Chinese Chippendale frame.
References:
Item Code:
P6386
attachment: