Paintings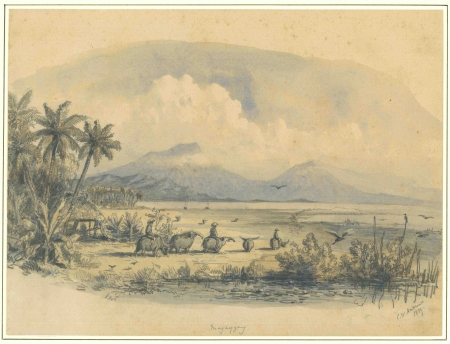 Artist / Author / Cartographer:
Andrews, Charles William
Title:
Majayjay, Philippines
Date:
1859
Medium:
pencil and watercolour on paper
Size:
20.7 x 27.9 cm
Description:
Majayjay, Philippines

signed and dated 'C.W. Andrews / 1859.' (lower right), and inscribed 'Majayjay' (lower centre)
An atmospheric view of Majayjay which is located to the east of Laguna de Bay on Luzon Island.
Charles William Andrews was an English artist who painted evocative views of the Philippines in the late 1850s. According to Benezit he exhibited paintings of the Philippines in an exhibition in Dorchester in 1865.
His story is a little sketchy but a certain Mr C.W. Andrews left Plymouth and arrived in Sydney on 5t January 1853. He appears to have taught art in Sydney and also advertised as a "Portrait and Miniature Painter" in The Illustrated Sydney News. His drawings appeared in some of the earliest editions of that magazine.
Andrews was awarded the first prize for a design of a medal to be presented to New South Wales' contributors chosen to exhibit at the 1855 Paris Universal Exposition. One of these actual medals is in the Mitchell Library.
According to Australian records there is no sign of any work in any medium after January 1857 when an advert appeared in Punch based on one of his drawings.
It is quite likely that Andrews was in Manila in 1858 when Sir John Bowring, the departing Governor of Hong Kong visited. The illustrations that appear in Bowring's book on the Philippines are probably after watercolours by Andrews.
Later in 1857 the roving artist correspondent Charles Wirgman visited Manila and the Philippines. It is quite possible that Andrews joined him on his sketching expeditions.
Andrews also painted a couple of views of Hong Kong in oils.
Andrews was at Dorchester, Dorset, in 1865, exhibiting paintings of indigenous life in the Philippines.
References:
Item Code:
attachment: