Photographs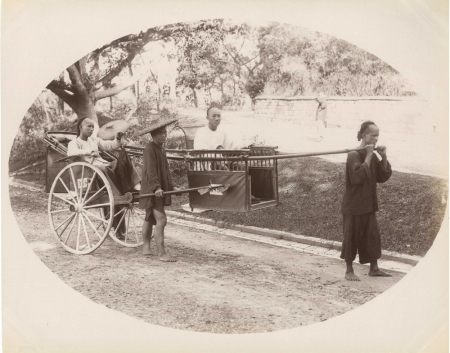 Artist / Author / Cartographer:
Afong Lai
Title:
Sedan Chair and Rickshaw
Date:
c1890
Medium:
albumen print
Size:
20.4 x 27.3 cm
Description:
The sedan chair was one of the most widely used forms of transport before the Peak Tramway was built in 1888. The rickshaw was introduced to Hong Kong in 1880 but was little to precarious for journeys up and down the Peak Road.
Afong was one of the first Chinese photographers to set up a studio in Hong Kong. The notable Scottish photographer, John Thomson, held Afong in high regard and complimented him on his work.
In the 1870s Afong Photographer, had a studio at No 54 Queen's Road, Hong Kong. By 1889 Afong Photographer Studio was at Ice House Lane, Behind New Oriental Bank, Hong Kong.
The business was probably taken over by his son in the 1890s. They took photographs of Hong Kong, Canton, Macau and Shanghai. In the studio they also took portraits.
In the 1910 Hong Kong Directory and Chronicle A Fong's Photo Studio was at 31, Queen's Road Central, above Watkin's Dispensary. A Fong, photographer, H.A. Rosario, managing clerk.
References:
Item Code:
P6005
attachment: