Photographs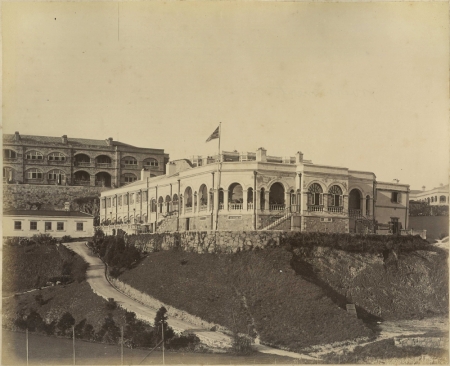 Artist / Author / Cartographer:
Afong Lai
Title:
Treverbyn House, The Peak, Hong Kong
Date:
c1889
Medium:
albumen print
Size:
21.8 x 26.8 cm
Description:
Underneath the photograph in pencil, "Government House Hong Kong". This is a mistaken attribution. Nevertheless this is a rare picture. The only other copy of this photograph I have seen was in an exhibition by Dennis Crow in Hong Kong in April 1999, also mistakenly attributed*.
Treverbyn House was probably built on the Peak in the mid 1880s. It was located close to the Peak Tram terminus which opened in 1888.
Businessman N.J. Ede lived at Treverbyn House along with his family. He formely lived at a house next door called Dunheved which he had built in 1875. He sold this house in 1888 to Alexander Findlay Smith who was involved with developing the Peak Tram. This was knocked down and dedeveloped as the Peak Hotel. The hotel can be seen in the photograph to the left, above and behind Treverbyn.
Reference
*Crow, Dennis George Historic Photographs of Shanghai, Hong Kong and Macao 1999. Illustrated page 50 No. 91.
References:
Item Code:
P6201
attachment: