Prints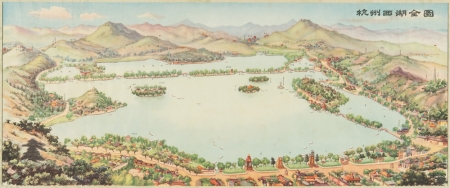 Artist / Author / Cartographer:
Chinese Artist
Title:
Hangzhou - West Lake
Date:
1956
Medium:
lithograph, printed in colour
Size:
34 x 83 cm
Description:
A beautiful view of the West Lake of Hangchow (Hangzhou) painted by a Chinese artist and published in China in 1956.
Hangzhou became a walled city c. AD 590 and would become the capital city of the Southern Song in 1132. It was on the Grand Canal, a sophisticated network of water transport, connecting it to Beijing. It grew to be one of the largest and most prosperous cities of the world.
Marco Polo the Venetian merchant visited the city in the late 13th century, according to some reports, and described its magnificence.
References:
Item Code:
MA5028
attachment: