Prints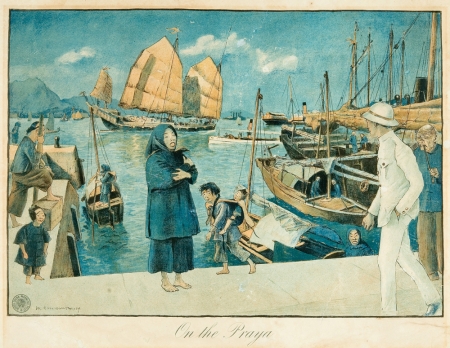 Artist / Author / Cartographer:
Collison-Morley, Lieut-Colonel Harold Duke
Title:
On The Praya
Date:
1909
Medium:
lithograph, printed in colour
Size:
30.3 x 42.5 cm
Description:
On The Praya
Signed lower left, H.D. Collison Morley. Litho by South China Morning Post.
A stroll along the Hong Kong Praya would introduce a very lively scene with many people sampans, junks, steamers and terrific views of the harbour and Kowloon beyond.
Harold Duke Collison-Morley studied art at the Slade School of Art in London and also in Paris before joining the army. He lived and worked in Hong Kong in 1909 and 1910. He produced a series of six lithographs of humourous scenes which were published by the South China Morning Post in 1909. These included, On the Peak Road, Shady Chracters, B'long Hongkong Rickshaw, On The Praya, The Happy Valley.
Lieutenant Colonel Harold Duke Collison-Morley worked in Australia prior to the first world war. He was killed in Flanders at the Battle of Loos in September 1915.He is listed in Guichards book of British Etchers.

References:
Item Code:
P4700
attachment: