Prints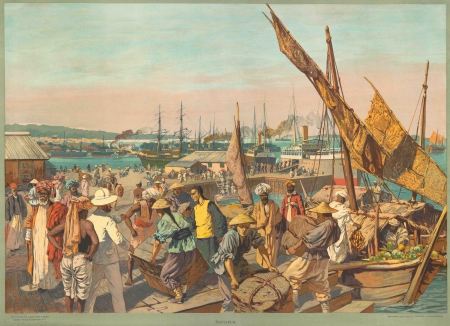 Artist / Author / Cartographer:
Hellgrewe, Rudolf
Title:
Singapore Harbour - Singapur
Date:
1908
Medium:
chromolithograph
Size:
81.7 x 110 cm
Description:
Singapur - Singapore Harbour.
Dresdner Schulverlag (Leutert & Schneidewind) 1908. signed, "R. Hellgrewe." From the series "Dr. A. Wünsche: Land und Leben". Serie III Welt Verkehr No. 3.
A magnificent view of Singapore docks and harbour at the beginning of the 20th century. A lively scene with many nationalities working on the dock loading and unloading cargo.
The chromolithograph was printed in Dresden after a painting by the German artist Rudolf Hellgrewe.

Rudolf Hellgrewe was regarded as the most famous painter of Germany's colonies. He studied art with Eugen Brachtand and Christian Wilberg at the Berlin Art Academy and specialised in landscape painting. In 1885 he travelled to East Africa where he painted a number of landscapes. Later he would produce dioramas of life in Germany's colonies for use in schools. He took part in the colonial exhibitions of 1896 and 1907, and was a founding members of the German Colonial Museum in 1899. In 1903 Hellgrewe did the ceiling paintings for the German Colonial House which was constructed based on the native architecture of the colonies.
References:
Item Code:
P6519
attachment: