Books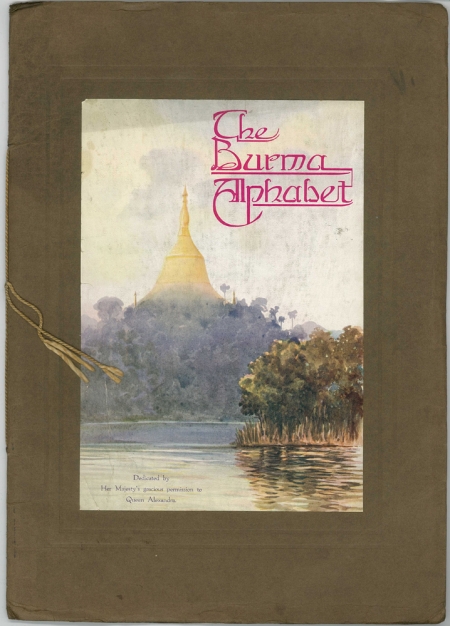 Artist / Author / Cartographer:
Wheeler Cuffe, Charlotte I.
Title:
The Burma Alphabet (in English & Burmese)
Date:
c1920
Medium:
book
Size:
quarto
Description:
The Burma Alphabet (in English & Burmese) / from the original sketches by Charlotte I. Whaler Cuffe
by Wheeler Cuffe, Charlotte I. Sold on behalf of the "Fund for the Queen Alexandra" Children's Hospitals, Mandalay, of which Her Majesty is Patroness.
[32] pp. color illus 35 cm.
Charlotte, whose pet-name was Shadow, was taught by a governess at home, and later studied painting under the guidance of Frank Calderon.[1] In the summer of 1897 at Lodsworth parish church in Sussex, she married Otway Fortescue Wheeler-Cuffe.
Lady Wheeler-Cuffe was invited by the authorities to undertake the formation of a botanical garden at Maymyo (now Pyin U Lwin). She readily agreed and worked on the layout and planting of this garden between 1916 and 1921 when she and her husband left Burma. They returned to Europe, and settled in the Cuffe family home at Leyrath, outside Kilkenny, Ireland.

While in Burma she produced The Burma alphabet, a book illustrated by her watercolours. This was sold at five rupees a copy to raise funds for a new hospital, the Queen Alexandra's Children's Hospital, in Mandalay.
Rare World cat lists 3 copies.
References
Wikipedia
National Library of Australia., Princeton University, Leiden University
References:
Item Code:
BK2088
attachment: