Maps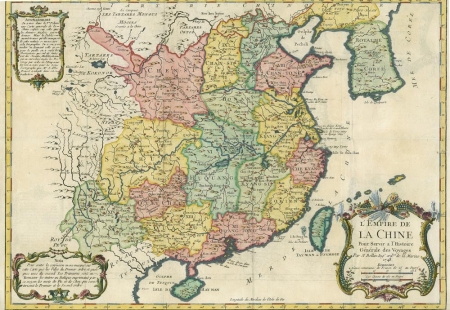 Artist / Author / Cartographer:
Bellin, Jacques Nicolas
Title:
China - L' Empire de La Chine Pour Servir a l'Histoire Generale des Voyages
Date:
1748
Medium:
copper engraving, later colour
Size:
29 x 40 cms.
Description:
An attractively engraved map of China highlighting the provinces, based on the Jesuit surveys carried out in the early eighteenth century.
ADVERTISSEMENT - On a mis dans le Ve Volume une, Carte generale de la Chine copiee sur celle que les Auteurs Anglois ont donnes Mais le Public- ayant trouve qu'elle manquoit de celtz nellete si necessaire a la Geographie on a cru y remedier en donnant celle cy pour la quelle on a suivi les observations qui ont ete failes par des Jesuites Mathematiciens qui en ont relve toules les - Provinces par ordre de L'Empereur Et l'on a suivi pour les noms l'ortographe que Mr. L Abbe Prevost a adopte dans sa- traduction NOTA - Pour eviter las confusion on na marque sur celte Carte que les Villes du Premier odere et quel ques unes du second Les Premieres sont en Romaine les dutres en Italique suprimant par ce moyen les mots de Fu et de Cheu qui carar lerisent le Premier et le Second ordre.
References:
Item Code:
MA6091
attachment: