Maps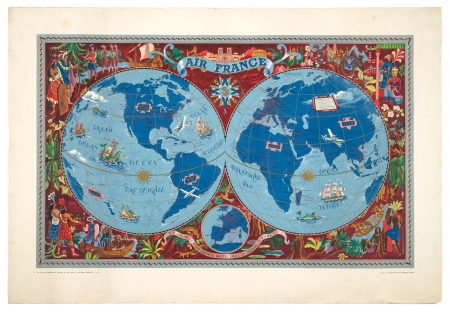 Artist / Author / Cartographer:
Boucher, Lucien
Title:
World Map - Air France - Twin hemispere
Date:
1952
Medium:
lithograph, printed in colour
Size:
58.5 x 95.5 cms.
Description:
An attractive double hemisphere world map showing the airline routes of Air France in 1952. Elaborately decorated in the borders with people in native costumes and scenes from around the world.
The French artist Lucien Boucher was born in Chartres in 1889. He was an engraver and illustrator who specialised in illustrating books and making posters. He died in Paris in 1971. The map was drawn by the French artist Lucien Boucher and it was printed by Perceval in Paris. Text lower left reads, "Il a ete tire de ce planisphere 500 exemplaires sur Velin Canson et Montgolfier Numerotes de 1 a 500.
Framed
References:
Item Code:
MA7754
attachment: