Maps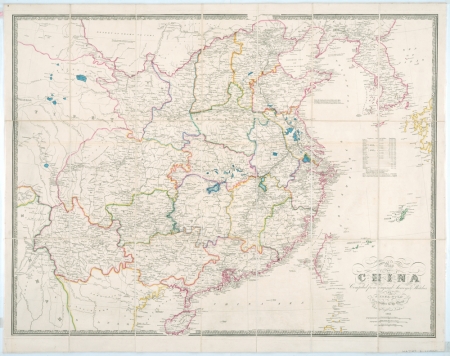 Artist / Author / Cartographer:
Wyld, James Junior
Title:
China
Date:
1842
Medium:
steel engraving, origial outline, colour
Size:
61.2 x 80 cm
Description:
Map of China Compiled from original surveys and sketches by James Wyld, Geographer to the Queen. Charing Cross East, London. 1842
A canvas backed 21 section folding map of China published in London by James Wyld Junior. Folds into a green canvas mounted pocket with original small label, China.
Within the border at the bottom of the map - London, Published by Ja. Wyld, Geographer to the Queen, Charing Cross, March 14th, 1840.
A detailed map of China and Korea issued during the First Opium War and before the Treaty of Nanking was signed on 29th August 1842. Hong Kong (Heong Kong) is indicated but in small print.
An index below Korea shows the population of each of the Chinese provinces along with Korea and Formosa (Taiwan).
James Wyld Junior [1812-1887] entered the family business in London c.1830. The publishing company had been set up by his father James Wyld, [1790-1836] who was a geographer and engraver who became Geographer to two British Kings, George IV and William IV. He was also a founder member of the Geographical Society. James Wyld Junior, FRGS, was Geographer to Queen Victoria and Prince Albert. He worked at a number of London addresses and published many maps and atlases. At the Great Exhibition of 1851 he exhibited an astounding, "Monster Globe" in Leicester Square. Inside was a model of the world viewed from its interior by climbing a series of stairs.
This scarce map is in excellent condition.
References:
Item Code:
MA7763
attachment: