Maps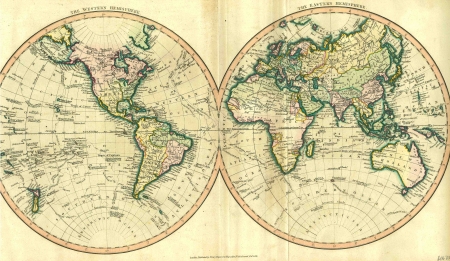 Artist / Author / Cartographer:
Cary, John
Title:
The World in two hemispheres
Date:
1811
Medium:
copper engraving, original colour
Size:
23 x 43.3 cm
Description:
The Western Hemisphere and The Eastern Hemisphere. London. Published by J. Cary, Engraver and Mapseller, No. 181 Strand Oct 1st 1811
An attractive double hemisphere map of the world engraved by John Cary in London at the beginning of the nineteenth century. The map has beautiful original hand colour. Many of the tracks of the navigators and explorers in the second half of the eighteenth century are shown, including the three voyages of Captain Cook.
John Cary was an English cartographer, engraver, globe maker and publisher. He had premises firstly in the Strand and then in St. James's Street, London. In 1794 he was the surveyor of roads to the General Post Office.
He was regarded as one of the finest English cartographers. He started working at a time when the large scale English County maps had recently become available, roads were being used as never before and accurate geographical information from distant countries was being received in ever increasing detail. His fine craftsmanship and ability as an engraver enabled him to make the fullest use of these sources and from them he produced a wide range of maps of great accuracy and clarity. His work covered not only county maps but world atlases, road maps, town and canal plans, sea charts and terrestrial and celestial globes.
References
Tooley's Dictionary of Mapmakers Revised Edition A – D 1999
Antique Maps Moreland and Bannister 1993
References:
Item Code:
MA7244
attachment: