Maps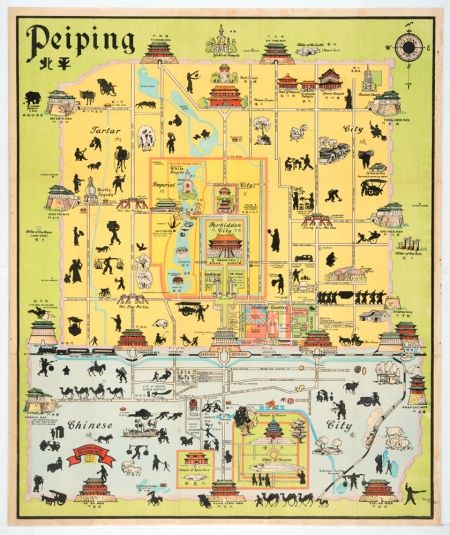 Artist / Author / Cartographer:
John Kirk Sewall / Peiyang Press Ltd.
Title:
Peiping - Peking
Date:
c.1930
Medium:
lithograph
Size:
58 x 48 cm
Description:
An Art Deco map of Peking published by the Peiyang Press in the 1930s in Peking. The map was drawn by the artist John Kirk Sewall.
A delightfully decorative and humourous map of Peking showing the major buildings and temples within and without the walled city, which are named in both English and Chinese. Silhouettes of many characters are shown, including men leading camel trains, men pushing wheelbarrows, men pulling rickshaws, musicians, acrobats, farmers,and street vendors. The walled city is divided into two, the Tartar City depicted on a yellow ground and the Chinese City on a sky blue ground.
References:
Item Code:
MA7887
attachment: