Maps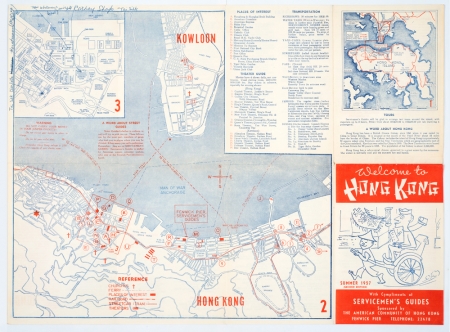 Artist / Author / Cartographer:
Servicemen's Guide
Title:
Welcome to Hong Kong
Date:
1957
Medium:
lithograph, printed in colour
Size:
37 x 51.5 cm
Description:
Welcome to Hong Kong
Summer 1957 (Second Edition)
With Compliments of Servicemen's Guides – Sponsored by The American Community of Hong Kong / Fenwick Pier

This informative folding, two-sided guide for U.S. servicemen visiting Hong Kong has a street plan of Kowloon and the north side of Hong Kong Island, with an inset of Central, and a separate small map of Hong Kong Island and vicinity. The Reference key shows Churches; Ferry; Places of Interest; Railroad; Streetcar (tram); and Theaters. The descriptive text covers Places of Interest; Theater Guide; Transportation; Tours; and A Word About Hong Kong. On the reverse the guide has general information and a shopping guide.
Not only are the maps useful in showing major buildings, landmarks and streets, there are also words of advice: "Warning – Do not carry your money in your jumper pockets! Do not entrust your money to others to change. Do not let your wallet show." There is also: "A Word About Street Guides – Street Guides (whether in uniform or not) will try to pick you up. These fellows are, for the most part, members of gangs who lead you to places where you may be cheated. If they annoy you, call a policeman."
References:
Item Code:
attachment: