Maps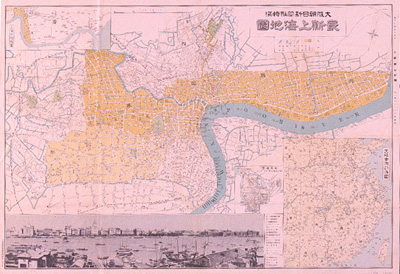 Artist / Author / Cartographer:
The Asahi Shimbun
Title:
Plan of Shanghai
Date:
1932
Medium:
coloured lithograph
Size:
51 x 75 cms.
Description:
An attractive 1932 plan of Shanghai China published by by the Osaka Asahi Shimbun as a supplement to the May 5, 1932 issue.
It was made before the start of the second Sino-Japanese war and World War II. Printed in the 7th year of Hirohito's reign, it depicts downtown Shanghai including the Chinese Quarter, the French Concession, the English Quarter (along the Bund) etc. Important buildings along the Bund are carefully noted, including the first HSBC Bank, the British Club, the Peace Hotel and the Customs House. There is a panoramic photo of the Bund in the lower left quadrant. A small inset detail map of Nanjing or Nanking is set in the lower right quadrant of the map. Another larger inset illustrates the greater Shanghai region.
References:
Item Code:
MA6143
attachment: