Maps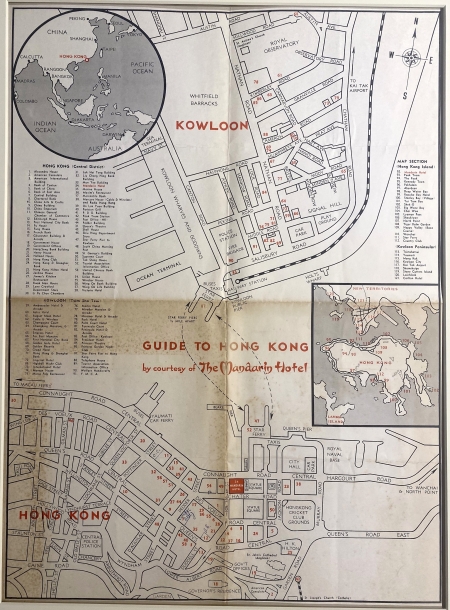 Artist / Author / Cartographer:
Hong Kong Publisher
Title:
Guide to Hong Kong by Courtesy of The Mandarin Hotel
Date:
c1965
Medium:
offset lithograph
Size:
52 x 38.3 cm
Description:
A tourist plan of Central Hong Kong and Kowloon published for the Mandarin Hotel in the 1960s.
At the top of the page is the Royal Obsevatory and Whitfield Barracks. The main roads are depicted and the main buildings are shown with a numerical reference in red and explained by an index entitled, Kowloon (Tsim Sha Tsui). The railway line is shown skirting the eastern coastline and ending with Kowloon Station beside the Star Ferry Pier.
At the bottom of the page is Central Police Station and the Governor's Residence and St John's Cathedral. The main roads and streets of Central District are depicted. The main buildings are again shown with a numerical reference in red. The Mandarin Hotel is depicted in a red square.
References:
Item Code:
MA8108
attachment: