Maps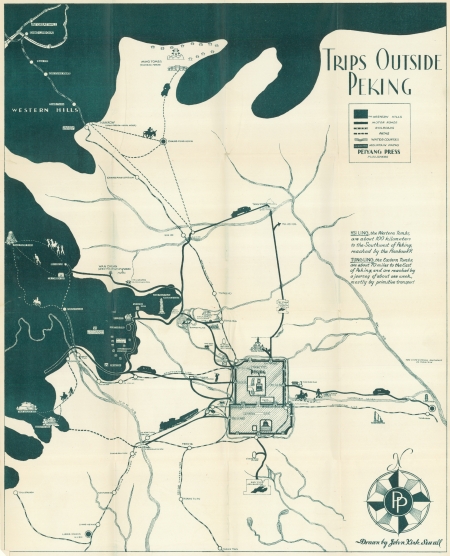 Artist / Author / Cartographer:
John Kirk Sewall / Peiyang Press Ltd.
Title:
Peking - Trips outside Peking
Date:
1935
Medium:
lithograph, printed in colour
Size:
58.5 x 47 cm
Description:
A folding map entitled, Trips outside Peking. Drawn by John Kirk Sewall.
Together with a booklet entitled, Map of the Western Hills including a detailed description of spots of interest and roads leading to the same.
Beijing: Peiyang Press, 1935. 8vo, printed wrappers, pp. (ii) + 10, with lithographed folding map, printed in green, with paper envelope with printed title.

An English-language guide to the tourist destinations around Beijing, containing a map, 'Trips outside Peking', drawn by American illustrator John Kirk Sewell. The 32 numbered destinations described in the leaflet include the Great Wall, Marco Polo Bridge, the Ming Tombs, the Summer Palace and the old Summer Place. On the map the routes are marked, as rail, road, water courses, paths and mountain paths. The routes to two further sites, the Western and Eastern Tombs, both off the map, are described: the Eastern Tombs, only 70 miles to the east of Peking, would take a week to reach, 'mostly by primitive transport'.

Sewell also produced an illustrated plan of Beijing.
Scarce.
References:
Item Code:
MA8118
attachment: