Maps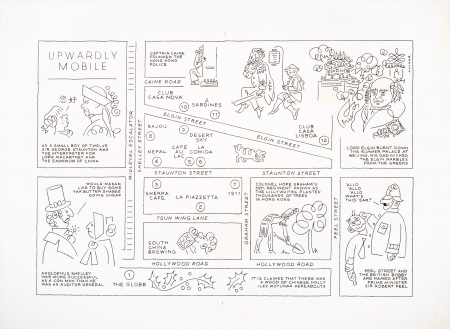 Artist / Author / Cartographer:
Hacker, Arthur
Title:
Soho - Upwardly Mobile
Date:
c1996
Medium:
ink on paper
Size:
43.5 x 64 cm
Description:
Artist and writer Arthur Hacker drew this plan of the new Soho area above Hollywood Road (South Of Hollywood) shortly after the Central escalator was built in 1993. Prior to this there was only one restaurant in the area on Old Bailey Street called Le Tire Bouchon which was popular in the 1980s and early 1990s, otherwise the area was predominantly residential with a few small warehouses. The original name Soho was an area in London that was formerly a Royal Park for Whitehall Palace during the reign of Henry VIII and the name probably originated from a hunting cry.
A pictorial map that describes the name origins of the streets in the area. Here we see caricatures of Shelley, Staunton, Cain and Elgin. Also legends such as, " Colonel Hope Graham's 59th Regiment known as the Lillywhites planted thousands of trees in Hong Kong". Another states, "Peel Street and the British Bobby are named after Prime Minister Sir Robert Peel".
Among the earliest twelve restaurants are shown on the plan:1.The Globe, 2. La Piazetta, 3. Sherpa Cafe, 4. Nepal, 5. Cafe au Lac, 6. La Comida, 7. 1911, 8. Bajou, 9. Desert Sky, 10. Club Casa Nova, 11. 2 Sardines, 12. Club Casa Lisboa.
At about this time Arthur was working on a book entitled, Hong Kong, Fact or Fiction, where he writes fascinating stories playing with the reader and leaving them to decide what to believe. At the bottom of the map is a note, It is claimed that there was a wood of Chinese Holly Ilex Rotunda hereabouts. In fact Hollywood Road was named after the 2nd governor of Hong Kong, Sir John Davies's estate, Hollywood, in Gloucestershire, England.
References:
Item Code:
attachment: