Maps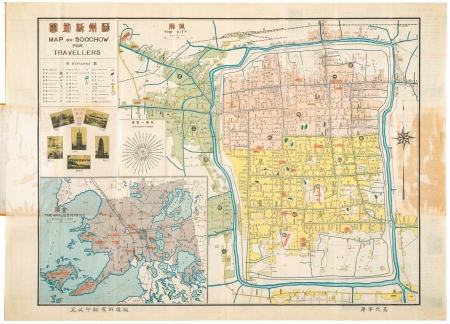 Artist / Author / Cartographer:
Wen Yi
Title:
Map of Soochow for Travellers (Suzhou)
Date:
1931
Medium:
lithograph
Size:
51 x 66 cm
Description:
An unusual plan of the ancient Chinese city of Soochow. The map folds into yellow boards with a pagoda printed on the front. The map is in Chinese except for the title and the index. On the reverse is a guide to Soochow in Chinese and English.
History. Soochow, once the capital of the state of Wu, got its name in the Sun Dynasty. during the Manchu regime it was chosen as the chief city of Kiangsu. Soochow is in the south eastern part of Kiangsu.
An attractive city plan showing many landmarks and highlights. On the same page is a map of the "Whole District" which shows the surrounding countryside to the city.
Wen Yi was a Chinese publisher of maps and guides working in Soochow (Suzhou) in the 1930s.
References:
Item Code:
MA8120
attachment: