Maps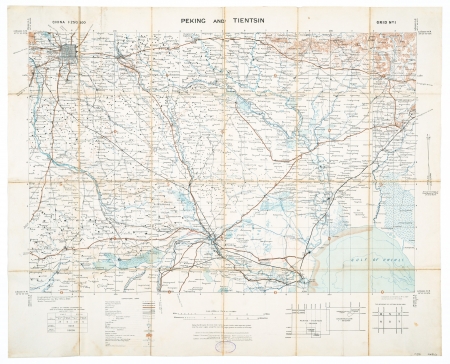 Artist / Author / Cartographer:
Geographical Section, General Staff
Title:
Peking and Tientsin
Date:
1932
Medium:
heliozincograph
Size:
65 x 85 cm
Description:
China 1:250,000. Peking and Tientsin. Grid No. 1. Geographical Section. General Staff No.3825. Published at the War Office, 1927. Roads corrected 1932. Compiled and drawn at W.O. 1927 and printed at W.O. 1932.
Scale. 1:250,000 or 1 inch to 3.95 miles.
A 24 section canvas backed folding map showing many details including roads, canals, railways, towns and villages between the Gulf of Chili, Tientsin and Peking. The map folds into a canvas backed black hardcover. Inside front cover is a label for A.J. Serebrennikof & Co., Tientsin.
A note below the map reads, "Below the 80 metre formline most rivers, canals and other waterways are dyked; only the outer ridges along the main drainage systems are shown on this map."
65 x 85 cm sheet size
Oval chop of , "The Oriental Book Store" , Tientsin in blue ink, bottom centre.
A scarce map.
References:
Item Code:
MA7459
attachment: