Paintings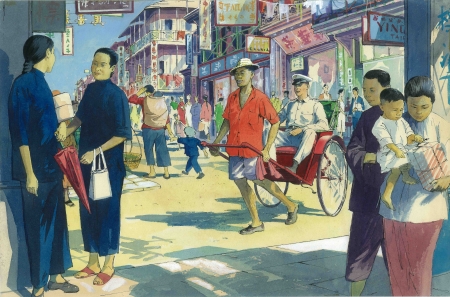 Artist / Author / Cartographer:
Middlehurst, Fred
Title:
Hong Kong
Date:
c.1940
Medium:
gouache
Size:
24 x 36.5 cm
Description:
A bright and vibrant scene in Hong Kong. A busy street lined with shops, including a tailor to the right, is full of various figure, including two women in traditional blue dress in conversation in the foreground to the left, a child opening a present in his mother's arms to the right, an airline pilot, is being transported in a rickshaw, in the centre of the picture.
This painting by Fred Middlehurst was one of the original artworks for, "11 views around the Commonwealth", including, Flying Doctor in Australia, Ocean Liner in Singapore, Camel outside Kaus, Oxcart in India, Boat in W. Indies and others.
References:
Item Code:
77.P5461
attachment: