Paintings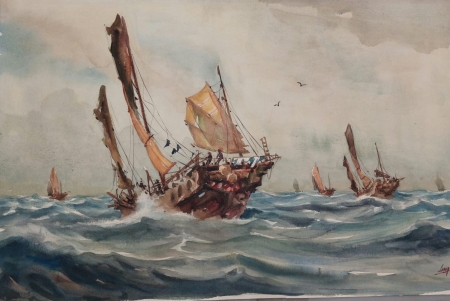 Artist / Author / Cartographer:
Kam Cheong Ling
Title:
Junks in a choppy sea in the Pearl River Delta
Date:
c1955
Medium:
watercolour
Size:
36.5 x 56.5 cm
Description:
Chinese junks in a choppy sea in the Pearl River Delta, near Hong Kong.
According to the Macau Museum of Art Kam Cheong Ling was born in Hong Kong. He was working in Hong Kong in the early 1950s and moved to Macau in 1954. He was a student of the accomplished artist Choi Veng Cheng. While living in Macau he probably came across the work of George Chinnery and George Smirnoff who both lived and painted watercolours of Macau in the 19th and 20th century. Ling has a fluid watercolour style. He was a founding member of Macau's Yu Un Association of Chinese Painters and Calligraphists, and was instrumental in the creation of Macau's Fine Arts Academy, where he taught watercolor painting from the 1950s until 1970s.
References:
Item Code:
P6589
attachment: