Paintings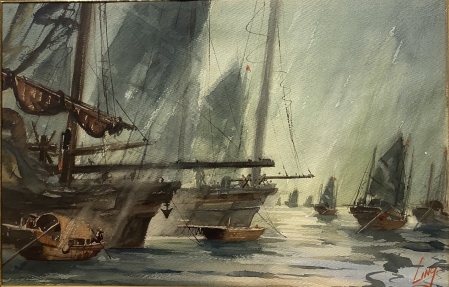 Artist / Author / Cartographer:
Kam Cheong Ling
Title:
Junks sailing in a rainstorm with a sampan
Date:
c1960
Medium:
watercolour
Size:
32.5 x 50 cm
Description:
An atmospheric painting of junks and a sampan in a rainstorm in the Pearl River.
Kam Cheong Ling (1911-1991) was one of the first artists to take on western style painting in Macau. For over 30 years (1950 to 1980) he painted the city and its people. His work includes watercolor and charcoaled and penciled drawings used to sketch his paintings before he painted them on canvas. But what makes Kam's work an important legacy is the fact that it shows a strong western influence. This influence comes from the days he was a student of master Choi Veng Cheng, who is considered to be the founder of Chinese watercolor painting. In Kam's work, influences of George Chinnery and George Smirnoff can also be recognized, as these two western artists also painted Macau.
Framed
References:
Item Code:
P6948
attachment: