Photographs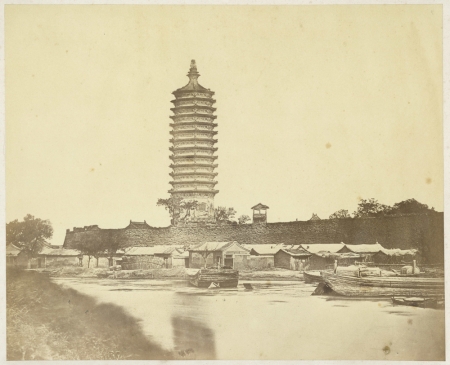 Artist / Author / Cartographer:
Beato, Felix
Title:
Tungchou Pagoda
Date:
1860
Medium:
albumen print
Size:
24.8 x 30.5 cm
Description:
This photograph of Tung Chow Pagoda (also known as the Randeng Pagoda) was taken by Felix Beato on 23rd September 1860 and is magnificent. It is probably the earliest photograph of the pagoda.
Tung Chow (Tongzhou) was a gateway to Peking (Beijing) based on an intersection of a canal and a river. It lay on a branch of the Bei River about 12 miles to the east of Beijing. The pagoda is conspicuous for its thirteen storeys.
Beato is thought to be the first photographer to visit Peking. His photos "are of huge historical significance – they are among the first photos ever taken of Beijing and ... provide a fascinating insight into a lost time. Beato was a pioneer of his time, a forerunner of the modern jobbing freelance photojournalist. He embedded himself with the British Army during the opium war, documenting soldiers' endeavours and his travels. To fund his trips, he sold his images to the army officers, who were eager to acquire photographic records of their foreign adventures. He took the only known image of the Summer Palace before it was torched by British and French troops shortly afterwards.
This is unusual in that it is a large format print during a time when photos could not be enlarged. Beato was also technically advanced and did his processing in the field.
References
Santa Barbara Museum of Art - Of Battle and Beauty. Felice Beato's Photographs of China 1999. Page 70. Catalogue 24
Terry Bennett Collection
References:
Item Code:
P5709
attachment: