Prints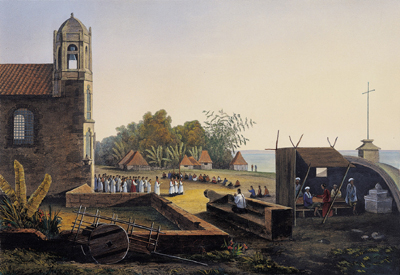 Artist / Author / Cartographer:
Lauvergne, Barthelemy
Title:
Manila - Eglise dans un Faubourg au Sud de Manille
Date:
1830
Medium:
aquatint
Size:
22 x 32 cms.
Description:
Sometimes travellers take the road which leads to Cavite. It is wide and dotted with pretty villages, which form suburbs on the left side, as Ridondo does on the other side. These villages are only inhabited by Tagals. It was in this area during the terrible Cholera epidemic of 1820 that the first troubles began. The French doctors who had gone to the help of the sick through devotion to their calling were massacred. Of all these villages, Malati, which is larger than the rest, stands out because of its pleasant situation, its pretty little church and its barracks which house a regiment of foreign troops. As the land slopes away, the houses get less frequent and the villages give way to rice paddies. Buffaloes with wild starring eyes, driven by children, plod slowly along an unkempt and uneven path which eventually comes out at the entrance to the maritime arsenal of the colony.
Captain Cyrille Pierre Theodore Laplace (1793-1875) circumnavigated the world on the corvette La Favourite from 1829-1832. The ship visited the Philippines from September to November 1830. Barthelemy Lauvergne (1805 - 1871) was draughtsman aboard La Favorite.
References:
The Philippines in the 19th Century Rudolf J.H.Lietz
Item Code:
P1560
attachment: