Prints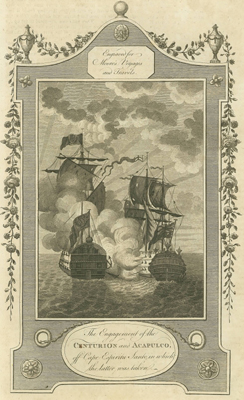 Artist / Author / Cartographer:
English Artist
Title:
Manila Galleon - The Engagement of the Centurion and Acapulco off Cape Espiritu Santo in which the latter was taken
Date:
1778
Medium:
copper engraving
Size:
27 x 16 cms.
Description:
Commodore Anson on board the British ship Centurion captured the Manila Galleon or Acapulco ship which was named Nuestra Senora de Covadonga. A Naval engagement off the Philippine Island of Samar in the Western Pacific in 1743.
Engraved for Moore's Voyages and Travels.
References:
Moore's Voyages and Travels 1778 Not in Quirino
Item Code:
P4305
attachment: