Prints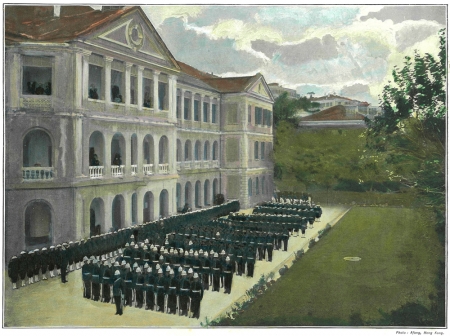 Artist / Author / Cartographer:
Afong
Title:
Central Police Station, Hollywood Road, Hong Kong - Tai Kwun
Date:
c1885
Medium:
print with later colour
Size:
16.7 x 22.8 cm
Description:
Entitled, "L'union fait la Force": The Parade of the Hong Kong Police.
A view of the Hong Kong Police on parade at the Central Police Station on Hollywood Road in the late 19th century. The hand coloured print is after a photograph by Hong Kong's most famous 19th century Chinese photographer, Afong.
This building is now called Tai Kwun in Chinese. It has been a construction site for many years, next door to the gallery. The construction has recently engulfed lower Old Bailey Street and is now taking place at the building where our gallery is located at 20 Hollywood Road.
Thus the title of this exhibition "Under Construction". Hard hats are recommended when you visit us!
References:
Item Code:
P6375
attachment: