Photographs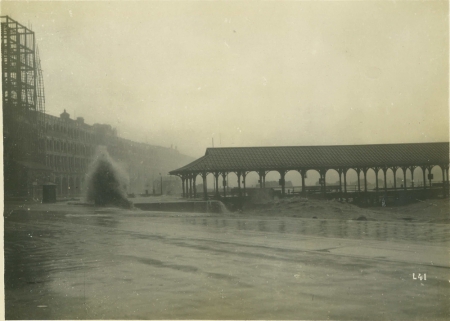 Artist / Author / Cartographer:
Mee Cheung
Title:
Blake Pier during Typhoon
Date:
1923
Medium:
gelatin silver print
Size:
10 x 14 cm
Description:
Hongkong is unfortunately subject to the much dreaded typhoons, the last of which, wrought tremendous damage in the month of August, 1923. On that occasion, thanks to early warning, the loss of live was not heavy, but shipping suffered greatly, there being nearly twenty sea-going vessels driven ashore within the precincts of the Harbour. One steamer the S.S. "Loong Sang" foundered within a few hundred yards of the Blake Pier shown here. Nearby, a British submarine which broke adrift, was also sunk. This photo was taken at great risk with a wind velocity of 130 miles per hour - a world's record.
References:
Item Code:
P4903
attachment: