Warning
: getimagesize(media/product/large/20895_hmsargusmap.1.jpeg): failed to open stream: No such file or directory in
/home/wattis/public_html/www/pages/product.php
on line
195
Photographs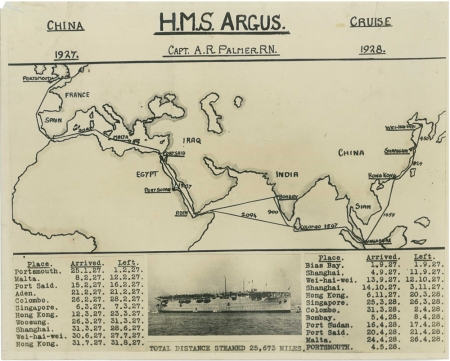 Artist / Author / Cartographer:
Unknown Photographer
Title:
HMS Argus Route Map
Date:
1927 - 1928
Medium:
gelatin silver print
Size:
16.3 x 20.2 cm
Description:
A photograph of a hand drawn route map of the aircraft carrier HMS Argus from England to China and back from 1927 to 1928. Capt. A.R. Palmer, R.N..
Below the map are listed the places visited either side of a photograph of the ship. She left England 1st February 1927 and returned on 4th May 1928. She first reached Hong Kong on 12th May 1927 and finally left on 20th March 1928.
HMS Argus was a British aircraft carrier that served in the Royal Navy from 1918 to 1944. She was converted from an ocean liner that was under construction at the beginning of the First World War. The first example of the standard pattern of aircraft carrier, with a full-length flight deck that allowed wheeled aircraft to take off and land. Her nickname was "the hat box".
References:
Item Code:
P4995
attachment: