Photographs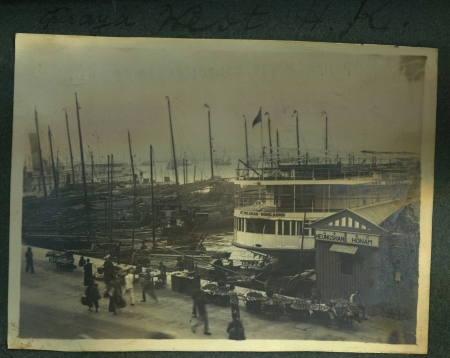 Artist / Author / Cartographer:
Unknown Photographer
Title:
J.P. Middleton snapshot album of Taikoo, Hong Kong
Date:
c.1914
Medium:
photo album
Size:
29 x 23 cm
Description:
A scarce snapshot album depicting people working for Swire at Taikoo Dockyard
Includes 48 various photos including views of Taikoo Dockyard, club hall interior, hospital, ropeway, recreation ground and village. Also Dragon Boat Race at Aberdeen, Old Kowloon City, Quarry Bay and Shaukiwan.
The album also shows men from the dockyard shipping out to fight in the First World War.
John Paul Middleton appears in the Jury Lists of 1915 -1918 working at Taikoo Dockyard as a foreman.
There are condition issues with a few of the photographs due to a badly folded page.
References:
Item Code:
Bk1087
attachment: