Maps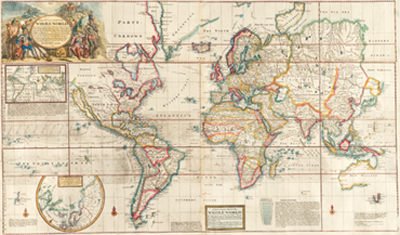 Artist / Author / Cartographer:
Moll, Herman
Title:
A New & Correct Map of the Whole World
Date:
1719
Medium:
copper engraving, later colour
Size:
71 x 121 cms
Description:
A New & Correct Map of the Whole World shewing ye situation of its principal parts, viz the Oceans, Kingdoms, Rivers, Capes, Ports, Mountains, Woods, Trade-Winds, Monsoons, Variation of ye Compass, Climate, &c. with the most remarkable Tracks of the Bold Attempts which have been made to find out the North East & North West Passages. The Projection of this map is called Mercator's the Design is to make it useful both for Land and Sea. And it is laid down with all possible care According to the Newest and Most Exact Observations by Herman Moll Geographer 1719.
Herman Moll was one of the leading mapmakers and engravers working in London at the beginning of the eighteenth century. A number of interesting notes often accompanied his maps. Moll was probably born in Bremen and he traveled to London in the late 1670s. He became part of the the London literary circle in the late seventeenth century and early eighteenth century among whom were Jonathan Swift and Daniel Defoe. He produced many marvelous maps in the first third of the eighteenth century. The high quality of Moll's work saw him become the mapmaker for the buccaneers, explorers and navigators William Dampier (1651-1715) and Woodes Rogers (c.1679-1732).
Moll and Dampier were a similar age and when they first met Dampier had already completed two of his 3 voyages of circumnavigation. He circumnavigated the globe 1683 -1691, 1703 - 1707, 1708 -1711. His accounts of his voyages were illustrated with maps drawn by Moll. Moll drew trade winds on his maps based on Dampier's, "Discourse of Trade-Winds".
This world map also reflects the English fascination of the Great South Sea (Pacific Ocean) at this time.
References:
Dennis Reinhartz - The Cartographer and the Literatii - Herman Moll and his Intellectual Circle 1997 illustration 3.
Item Code:
MA6497
attachment: