Maps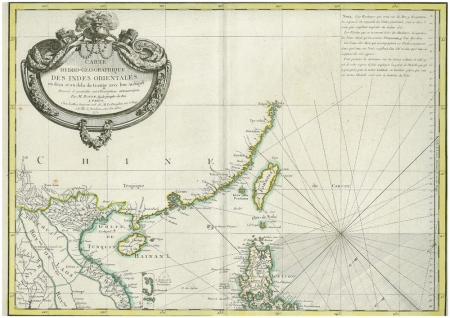 Artist / Author / Cartographer:
Bonne, Rigobert
Title:
South East Asia - Carte Hydro-Geo-Graphique des Indes Orientales
Date:
1771
Medium:
copper engraving, original outline colour
Size:
Each approx. 29.5 x 41 cms.
Description:
Carte Hydro-Geo-Graphique des Indes Orientales en deca et au dela du Gange avec leur Archipel.
One of the earliest detailed hydrographic maps of South East Asia. It was engraved on four copper plates and published in Paris in the second half of the eighteenth century.The map has rhumb lines and depths to help navigators. Good detail of the South China coastline and Formosa in the upper right section.
Rigobert Bonne (1727 - 1795) was an engineer, mathematician and cartographer from Raucourt in France. He succeeded Nicolas Bellin as hydrographer of the Depot de la Marine in 1773. He produced numerous maps between 1762 and 1790.
Only one section, of four plates, illustrated above.
Reference
Empson, Hal Mapping Hong Kong 1992, Front cover detail
References:
Item Code:
MA7591
attachment: