Maps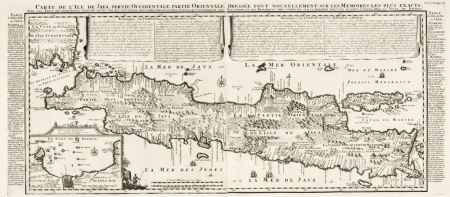 Artist / Author / Cartographer:
Chatelain, Henri Abraham
Title:
Java - Carte de l'Ile de Java
Date:
c.1719
Medium:
copper engraving
Size:
37 x 87 cm
Description:
Carte de l'Ile de Java: partie Occidentale, partie Orientale, Dressée tout nouvellement sur les Mémoirs les plus exacts; Avec une Table des principales villes de cette Ile, La situation des comptoirs & autres places qu'y possedent les Hollandois, et des Remarques très curiueuses sur la maniere dont ils se sont établis dans la Ville de Batavia.
A fine impression of this two sheet map of Java which was published in Amsterdam in 1719. By the early eighteenth century the Dutch East India Company was beginning to relax its policy of secrecy towards geographical information relating to South East Asia. This map was considerably more accurate and with finer detail than any previously published map of the island. The southern coast of Java is depicted in far greater detail.
Henri Abraham Chatelain was a publisher and bookseller of Amsterdam. Together with his brother and son they produced, between 1705 and 1739, a seven volume encyclopaedia, Atlas Historique, including geography as one of its main subjects.
References:
Item Code:
MA6784
attachment: