Maps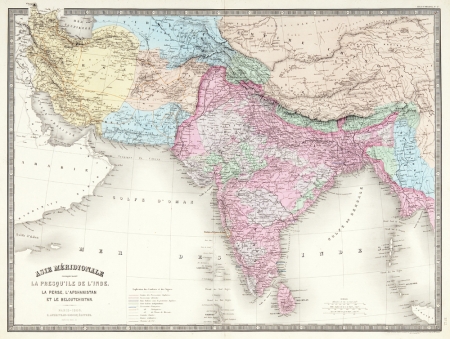 Artist / Author / Cartographer:
Andriveau-Goujon, Eugene
Title:
India - Asie Meridionale
Date:
1864
Medium:
steel engraving, original colour
Size:
47 x 62 cm
Description:
Asie Meridionale comprenant La Presqu'ile de L'Inde, La Perse, L'Afghanistan et Le Beloutchistan. Paris 1864. E. Andriveau-Goujon, Editeur. Rue de Bac, 21.
Grave le trait par Smith, les Montagnes par Gerin, les Ecritures par P. Rousset, les Eaux par Mme. Fontaine. Imp. A.Chardin Jne.
An attractive map of Central Asia and India published in Paris in the middle of the nineteenth century. A number of specialist engravers were employed in putting together this intricate map.
References:
Item Code:
MA6090
attachment: