Maps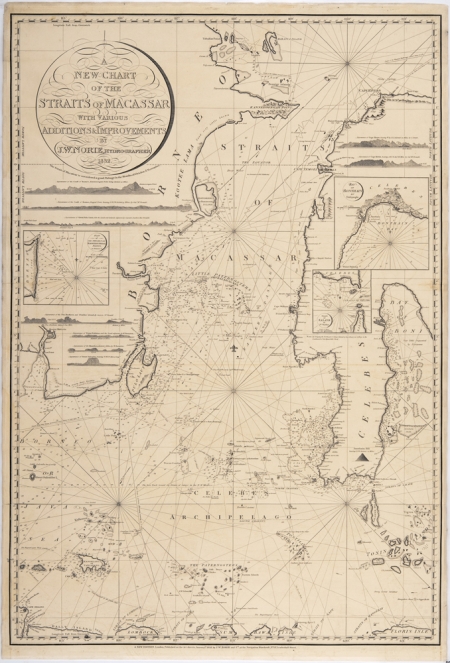 Artist / Author / Cartographer:
Norie, John William
Title:
A New Chart of the Straits of Macassar
Date:
1832
Medium:
copper engraving
Size:
93.5 x 64 cm
Description:
A New Chart of the Straits of Macassar with various additions and improvements by J.W. Norie, Hydrographer.
The Strait of Macassar is considered a good passage in the months of October and November.
A new edition London, Published as the Act directs Jan 1st 1832, by J.W. Norie & Co., at the Navigation Warehouse, No. 157, Leadenhall Street.
A beautifully engraved chart of the Straits of Macassar showing Eastern Borneo and Celebes coast lines.
John William Norie (1772-1843), acquired the chart publishing business of William Heather after he died in 1812. He went into partnership with George Wilson (1753-1831). Norie became a prolific hydrographer, chart publisher and author of navigation textbooks and pilots (sailing directions). The first catalogue of "J.W. Norie & Co. (Successors to the late William Heather) Chartsellers to the Admiralty, and the Honourable East India Company" lists 143 charts, of which 27 cover Eastern Navigation. Cape of Good Hope, Isle of France, Indian Ocean, Bay of Bengal, East Indies, China, New Holland &c." These include (as no. 132) The Straits of Malacca and Sincapore (sic) with separate Plans of Cornwallis Roads at Prince of Wales's Island, Bass Harbour, and the Straits of Sincapore, priced at 7s 6d.
References:
Item Code:
MA6902
attachment: