Maps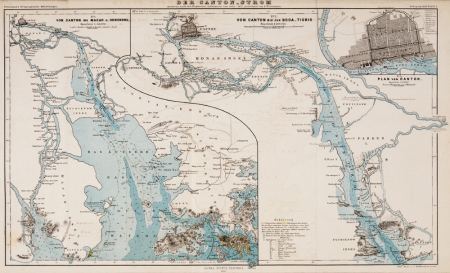 Artist / Author / Cartographer:
Augustus Peterman F.R.G.S. [1822 - 1878]
Title:
Canton River - Der Canton-Strom
Date:
1858
Medium:
lithograph
Size:
24.5 x 41 cm
Description:
Der Canton-Strom - No.1: Von Canton bis Macao u. Hongkong - No. 2: Von Canton bis zur Boca-Tigris - No. 3: Plan von Canton.
A detailed mid nineteenth century map of the Pearl River by the German mapmaker August Petermann. The map was published by Gotha Justus Perthes. It was based on English surveys between 1840 and 1857. The map to the left of the page shows the river's course from Canton to Macau and Hong Kong. It shows quite some detail around Hong Kong and Lantau with islands named, places named, even Li -wui (Lo Wu) appears, and soundings. To the right of the page is a detailed map of the river from the Bocca Tigris to Canton. Inset upper right is a city plan of Canton.
The accomplished German mapmaker Augustus Petermann was a noted draughtsman who became Geographer and engraver to Queen Victoria. At the age of 17 he joined Heinrich Berghaus's school of engraving. In 1845 he moved to Edinburgh to work on A.K. Johnston's The Physical Atlas. In 1847 he started working in London by himself at Charing Cross. He was active with the Royal Geographical Society and would be awarded the RGS Founders Medal in 1868. In 1854 he returned to Gotha, Germany to work with Bernhardt Perthes at the Justus Perthes publishing company. Under his influence the company would grow into a world famous geographical institute.
References:
Item Code:
MA6965
attachment: