Maps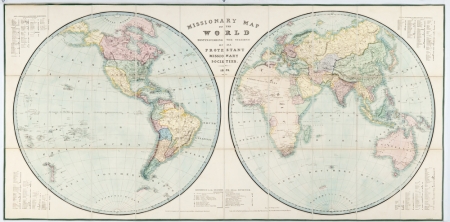 Artist / Author / Cartographer:
Cruchley, George F.
Title:
World - Double hemisphere
Date:
1838
Medium:
copper engraving, original colour
Size:
73 x 149 cm
Description:
Missionary Map of the World distinguishing the stations of all Protestant Missionary Societies 1838.
A magnificent 30-section canvas backed folding wall chart of the world in beautiful original colour. With slip-in box.
Executed in Lithography by J. Netherchift & printed at his office, 23, King William St., West Strand. London 1838. Pubd. by the Church Missionary Society & sold by Messrs. Hatchard, Piccadilly. Nisbert & Co. Berners St.: Seeley & Co. Fleet St..
The map is in very good condition with a small amount of toning, confined to the North Atlantic, Indian Ocean, Great Southern Ocean and China Sea. The key lists the various Protestant missions around the globe including those in New South Wales (Sydney; Bathurst; Moreton Bay) and Western Australia (Peel Town). Green cloth covered slipcase (marked) with original onlaid title label.
Rare.
George Frederick Cruchley was an English engraver, publisher, globemaker and mapseller with premesis at 81 Fleet Street, London. He was trained by Aaron Arrowsmith and re-issued some of his maps. He bought John Cary's plates in 1844. The London firm was in operation from 1823 until 1875.
References:
Item Code:
MA7018
attachment: