Maps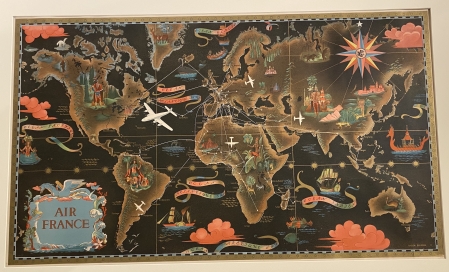 Artist / Author / Cartographer:
Boucher, Lucien
Title:
World Map - Air France
Date:
1947
Medium:
lithograph, pinted in colour
Size:
52.5 x 90 cm
Description:
World Map - Air France - A map of the world showing the flight paths of Air France in 1947.
This attractive and stylised air route map was drawn by the French artist Lucien Boucher and it was printed by Perceval in Paris. The French artist, Lucien Boucher has again created another graphic masterpiece to fire the imagination.
Lucien Boucher was born in Chartres in 1889. He was an engraver and illustrator who worked in Paris and specialised in illustrating books and making posters. From the 1930s to the 1960s he produced a number distinctive air route maps for Air France.
Framed.
References:
Item Code:
MA7135
attachment: