Maps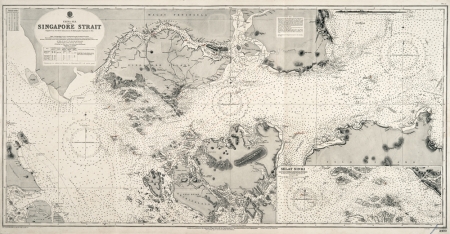 Artist / Author / Cartographer:
Hydrographic Office of the Admiralty
Title:
Singapore Strait - Compiled from the Latest Information
Date:
1923
Medium:
copper engraving
Size:
72 x 132 cm
Description:
China Sea. Singapore Strait. Compiled from the Latest Information in the Hydrographic Department to 1921. Soundings in Fathoms.
London. Re-published at the Admiralty 15th April, 1914. Under the superintendence of Rear Admiral H.F. Purey-Cuff, C.B., Hydrographer. New editions 13th March, 1915, 19th Feb. 1923. Small corrections to 1923. Chart No. 2403. Engraved by Davies, Bryer & Co..
A striking hydrographic chart of the waters around Singapore Island. Inset detail of Selat Sinki lower right.
References:
Item Code:
MA7112
attachment: