Maps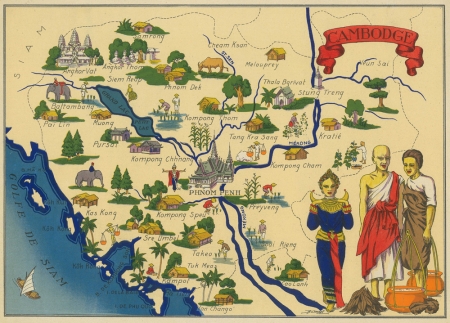 Artist / Author / Cartographer:
Jylbert
Title:
Cambodge - Cambodia
Date:
1943
Medium:
lithograph, printed in colour
Size:
24.5 x 34.5 cm
Description:
An attractive map of Cambodia (Cambodge). A decorative map with the capital Phnom Penh at the centre and Angkor Vat at the top left. An Art Deco style map of Cambodia published in Paris in 1943. The Mekong River meanders along the right side of the map. Towns, rivers and temples are shown along with elephants, houses, and people at various occupations. Angkor Vat appears in the top left hand corner of the map.
The map carries a printed signature of the French illustrator who is only know by his pseudonym "Jylbert".
References:
Item Code:
MA7632
attachment: